eVADER
Electric Vehicle Alert for Detection and Emergency Response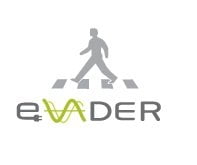 Framework:

FP7

Type:

STREP

Status:

Completed

Category:

Electrification (FEV/PHEV)

End Date:

30/09/2014

Vehicles:

Passenger cars

Website:

http://evader-project.eu/
eVADER will investigate the interior and exterior sound scape of electric vehicle for safe operation, considering driver's feedback, feasible pedestrian reactions, driver and pedestrian warning systems and pedestrian safety. The project will also analyse innovative methods to improve the acoustic detectatibility of electric vehicles in urban scenarios. The project will define solutions to warn vulnerable users of a nearby moving vehicle while providing means for heightening the awareness of drivers in critical situations.
Some of the most important areas covered are:
Optimum warning signals definition to induce correct driver reaction for safe operation
Adaptation of the warning signals to the real in-service vibro-acoustic environment as well as real urban and exterior noise
Optimum warning signals definition for pedestrians in close-to-accident situations
Integration of the generation of acoustic warning signals with in-vehicle intelligent systems data
Use of in-vehicle complementary information to improve characteristics of the warning signal, depending on real close-to accident scenario.