ETIP SNET & BRIDGE Key results and steps forward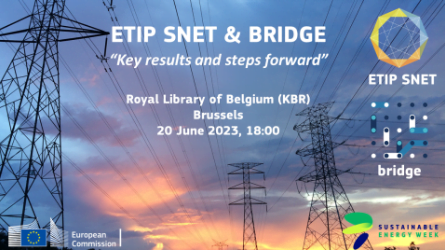 The European Technology & Innovation Platforms (ETIP) for Smart Networks for Energy Transition (SNET) stakeholders and BRIDGE projects' communities are firmly committed to contributing to the energy transition and are delighted to invite you to their "ETIP SNET and BRIDGE – Key results and steps forward" that will take place in Brussels on the 20 June 2023 at the Royal Library of Belgium (KBR) located in Mont des Arts 28, Brussels 1000 from 18:00 onwards.
This event is a Sustainable Energy Day within the framework of the European Sustainable Energy Week (EUSEW).
The event will be exclusively in person, do not forget to register to secure your attendance (places are limited)!
Participants will be welcomed with an aperitif at 18.00, and by 18:30, a presentation and panel discussion will be held until 20:00 and followed by a networking walking dinner. Moreover, you will have the unique opportunity to meet the BRIDGE projects responsible in the "EU BRIDGE Projects Corner" to exchange ideas, discover projects' results and establish new synergies.
This event aims to showcase the progress and achievements made by the ETIP SNET and BRIDGE initiatives in the last three years and to trace the path forward to accelerating the EU's energy transition while contributing to the general policy setting of the European Commission.
Check out the draft agenda .
You can register for the event here.
More information:

https://smart-networks-energy-transition.ec.europa.eu/events/current-and-past-events/etip-snet-bridge-key-results-and-steps-forward
Upcoming Events
Stay Informed