Towards zero emission road transport (2Zero): a partnership to achieve carbon-neutrality in road transport by 2050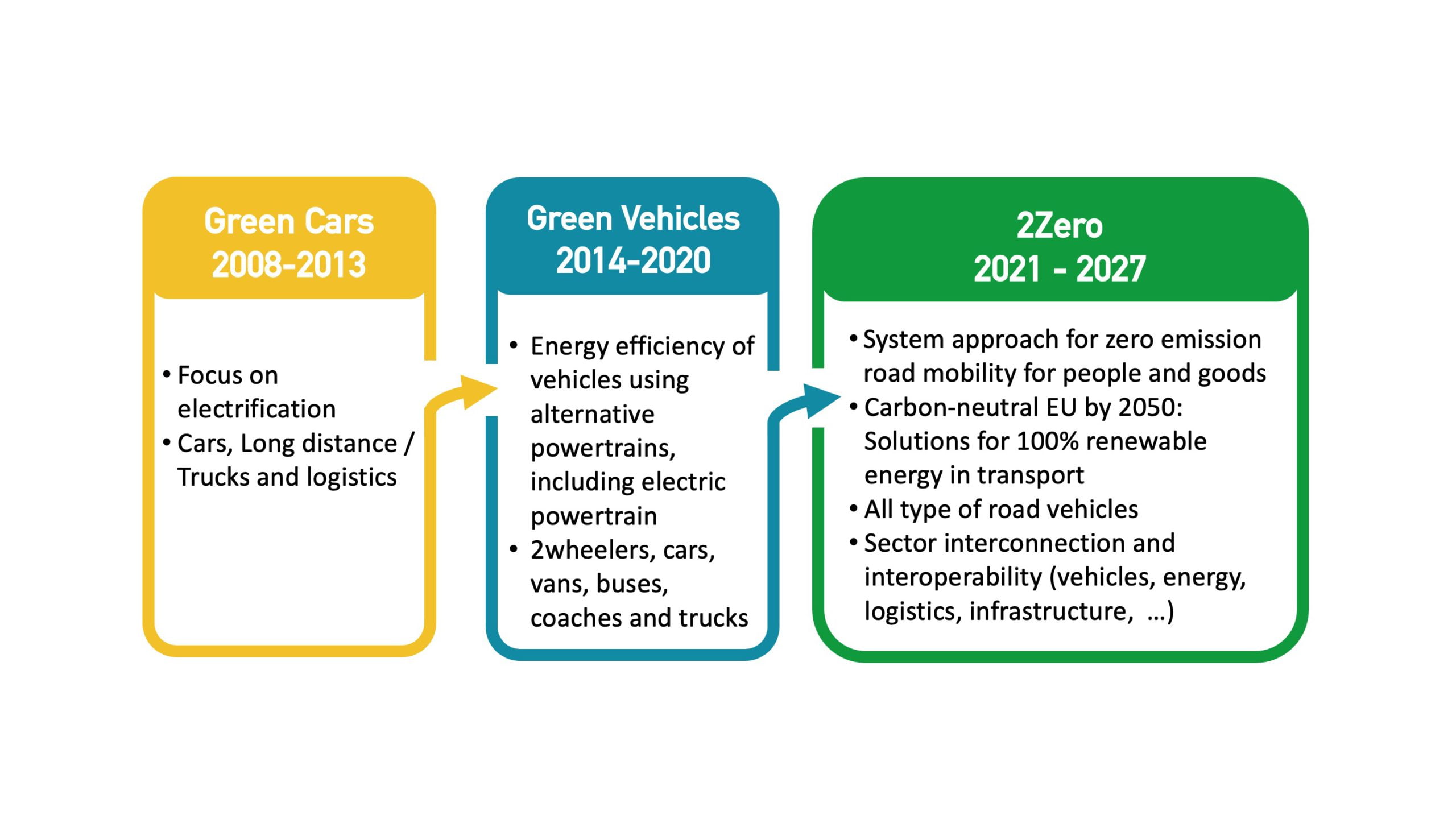 When publishing the European Green Deal, the European Commission sets a very high ambition for Europe: to become the first climate-neutral continent by 2050.
This objective will require efforts from all sectors, and a particular emphasis will be put on road transport as one of the main contributors to GHG emissions in Europe. While the European Green Vehicle Initiative (EGVI) has already been successful in improving the energy efficiency of vehicles using alternative powertrains, a further step should be taken to achieve carbon neutrality.
This is the aim of the "Towards zero-emission road transport" (2Zero) partnership. Based on the success of EGVI at vehicle level, it will develop a system approach to cover all layers of research and innovation activities: technologies, process, and operation, innovative business models. The 2Zero partnership will, therefore, contribute to the development of the next generation of affordable multi-technology options towards zero tailpipe emission road transport for all types of vehicles from 2-wheelers to Heavy-Duty Vehicles. It will also investigate zero-emission innovative mobility concepts and services for both people and logistics applications. And specific attention will be paid to the development of the necessary cost-effective, user-friendly recharging infrastructures for electric vehicles (from slow to fast / ultra-fast charging). LCA and circular economy will be the cornerstone of the assessment of the technologies and partnership activities.
The 2Zero partnership is only one of the proposed partnerships within Horizon Europe. Constant interactions and exchange of information will be needed with partnership developing enabling technologies (Batteries, Clean Hydrogen, Key Digital Technologies …) to ensure a smooth and quick integration at vehicle level. Coordination will be needed with several other partnerships (i.e. CCAM, DUT …) to maximise synergies and avoid duplication of activities.
As integration is one of the strengths of the 2Zero partnership, limits should not be set to European activities. Stronger involvement of Member States and public authorities is foreseen to accelerate the uptake of innovations across European streets and improve the coordination of European research activities with the national ones.
Do you want to know more about the 2Zero partnership? Get in touch with us at info@egvi.eu
More News