eVADER – Electric Alert for Detection and Emergency Response (November 2014)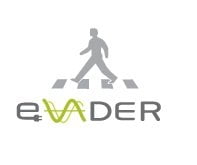 eVADER, (electric Vehicle Alert for Detection and Emergency Response), is a European Commission project in which a consortium, including academic institutions, OEM's and Tier One suppliers, has studied a next-generation audible alert system solution for EV's and HEV's.
A prime objective of eVADER has been to develop a solution whereby the audible alert system will have minimal impact on environmental noise levels whilst satisfying the requirement of alerting pedestrians to the proximity of an EV / HEV for their safety and to provide means for heightening the awareness of drivers in critical situations.
Project Results
The project resolves as much as possible the conflicting requirements of minimizing the impact of EV sounds on traffic noise pollution levels, whilst providing effective audible cues to alert pedestrians and other vulnerable road users of the presence of a nominally silence EV/HEV
Ability to direct an alert sound towards any detected close-to-accident vulnerable road user
Ability to minimize unwanted noise radiation in all directions. This is achieved with a loudspeaker beam forming array based on 6 loud speakers with a non-uniform spacing coupled with a sound-power minimization beam forming algorithm implemented in real time.
Detection of vulnerable road users is achieved by an Environmental Perception System (EPS) incorporating camera, radar, based on a exiting ADAS technology.
In addition to the EPS, there is a Location Based System (LBS) which uses GPS position, time of day and database hotspot, critical areas and speed limits, to support risk estimation when no VRU is detected
Project Structure
WP1 Concept Definition and system requirements: Defines the scope of the study in terms of at-risk situations for pedestrians, of situations where quiet vehicles improve the resident's comfort, of reduction of the overall noise level in cities, of safety management between the vehicle or driver and the pedestrian and of technical and economical requirements.
WP2 Psycho-acoustic principles Warning signals Characteristics Threshold definition: The goal of this work package is to define the timbre of warning sounds which will be used in the project. The WP investigates ways of producing highly detectable sound signals with associated low acoustic energy in order to reduce urban noise without compromising pedestrian safety.
This figure shows various sounds than can be detected before a diesel engine sound and having a lowed decibel level.
WP 3 Warning signal generators: Conceptual design of an acoustical warning signal generator that will be capable of emitting a directional sound beam in a variable direction. This has been a fundamental contribution of the project since it allows us to direct the warning signal toward the close-to-accident pedestrian only without acoustically polluting the environment.
Front end of demonstrator vehicle during the development stage in a anechoic chamber.
WP 4 Algorithms and strategy definitions for acoustic warning devices: Conceptual design of strategies and algorithms for the interior and exterior acoustic warning systems and the associated Human-Machine-Interface (HMI) and environmental perception system.
The figure below shows the eVADER system schematic with the three main hardware processing units and their interconnectivity. All communication and control signals pass via dedicated eVADER CAN-bus. Signals to and from the loudspeakers and microphones are not communicated via CAN, however VSound DSP input and output is available on the CAN bus for monitoring purposes.
eVADER system schematic – Controller
WP 5 Design and construction of acoustic warning devices: The overall objective of this work package is to build a prototype of an in-vehicle warning device capable of directing the warning acoustic signal towards the detected close-to accident pedestrian and to design the appropriate software to control this source using the information provided by the stereoscopy camera, radar and Environmental Perception System.

Lay-out of acoustic source array based on 6 loudspeakers located at the front end of the vehicle.
WP6 Vehicle Implementation: To evaluate the performance and suitability of the system, both in virtual world simulated tests and in real world physical tests. Creation and evaluation of sounds in line with findings of WP2 that also meet Nissan/Renault/PSA brand image (BI), Customer acceptance and Environmental impact requirements.
WP7 Validation: Validation of the project results of eVADER
Preliminary tests show that the demonstrator vehicle is capable of detecting pedestrians a produce a beam of sound directed to the close-to-accident pedestrians. These tests have been used to validate independent subsystems that are integrated in the final demonstrator. These subsystems include: Stereoscopy camera, radar, directional acoustic array, external microphones and a Location Based System (LBS) which uses GPS position, time of day and database of hotspots, critical areas and speed limits, to support risk estimators where a vulnerable road user is detected.
The figure below shows a representative directivity pattern obtained with the acoustic source array incorporated in the demonstrator. In this case, the beam has been directed towards the front of the vehicle. The main bean can be directed within an angle of about +- 60 degrees.
Warning signal directivity pattern for frontal radiation.
WP8 Demonstration: A demonstrator vehicle has been built based on a NISSAN Leaf that incorporates the developed technologies described above. In this WP, real world assessment of the demonstrator performance will be carried out with vulnerable road users. The demonstration will be carried out in a laboratory and proving ground environment (Applus+ IDIADA) and in urban areas in the city of Barcelona.
Picture of the current eVADER demonstrator built on a NISSAN leaf
——————-
SAVE THE DATE!
The final workshop of the project is scheduled for the 11th & 12th December 2014 in Applus+ IDIADA (Spain) (day one) and in Barcelona (day two).
11 December – Project results presented and demonstrations at Applus IDIADA.
12 December – Renowned speakers present findings and challenges in EV and pedestrian safety and demonstration in real traffic conditions in Barcelona
In order to register, please send an email to evader@idiada.com
Project Coordinator: Dr. Juan Jesús Garcia, (jjgarcia@idiada.com)
Other Projects